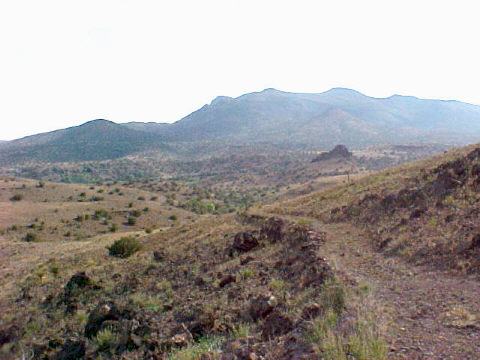 Eagle Peak is the small peak in the lower-right center. It is the remnant of an igneous volcanic extrusion, and source of the lava flow upon which the photographer is standing. Cienega Mountain is seen in the background, where it is capped by Edwards Cretaceous Limestone. Calamity Creek is located in the left center just past Eagle Peak.

&nbsp &nbsp &nbsp Located in the heart of the Northern extreme of the Chihuahuan Desert, at an elevation of 5000 feet, where the climate is mostly cool in the summer and the winters are mild. The Ranch offers RV hookups and tent camping, plus picnicking, hiking, bird watching and backpacking. Full RV hookups and tent camping are located at the ranch headquarters. Cabins along Calamity Creek are also available. Reservations are a must.

Eagle Peak at sunrise as seen from near the rental cabins along Calamity Creek.

&nbsp &nbsp &nbsp The rental cabins are located two miles from the main headquarters on Calamity Creek, a year-round clear-running stream with oak trees. Group rates available. This is an excellent area for hiking and dirt bicycling. For all current prices and fees please go to the official WOODWARD RANCH website.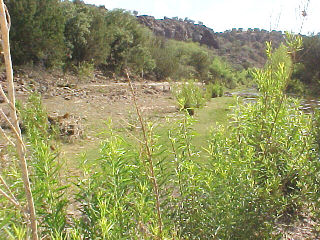 Looking west up Calamity Creek.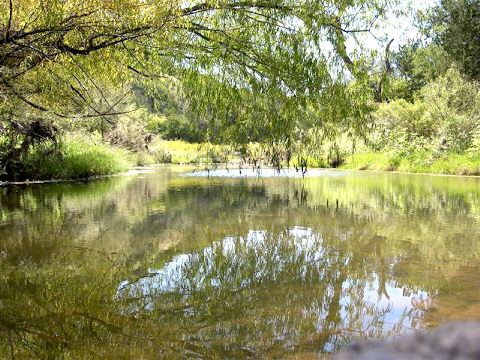 Another look further west up Calamity Creek.



Next - RANCH HERITAGE




© Copyright. All rights reserved.