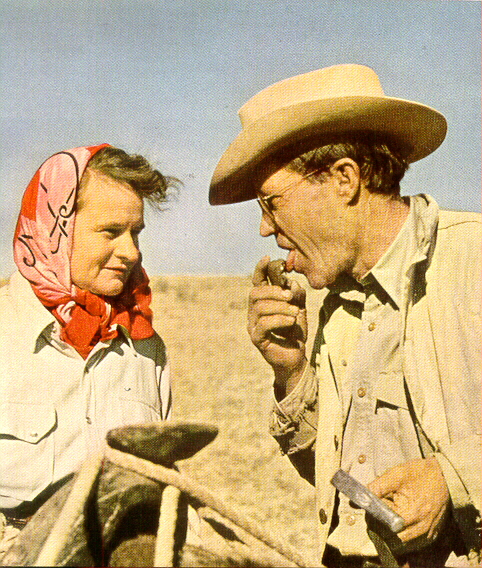 J. Frank and Mary Frances Woodward.

&nbsp &nbsp &nbsp This photo of my Mother and Dad was taken from the National Geographic magazine, dated November 1951, pp 631-660. The article is titled "'Rockhounds' Uncovers Earth's Mineral Beauty". They bought the property in 1939 from America "Auntie" Bird, his aunt, and the ranch was initially planned to be a simple working ranch for breeding and growing cattle; however, upon soon discovering that agates existed on the place, and that people would actually come from all over the United States just to hunt and/or buy them, it was decided in the mid-1940's that they should get into the rock business. They quickly realized that they needed to cut the rocks in order to identify and price the rocks, so they bought a rock saw..... and the rest is history.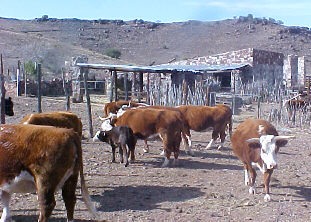 Cattle being fed in the pens. Note: near the top of the mountain in the background is where precious fire opal veins are found.

&nbsp &nbsp &nbsp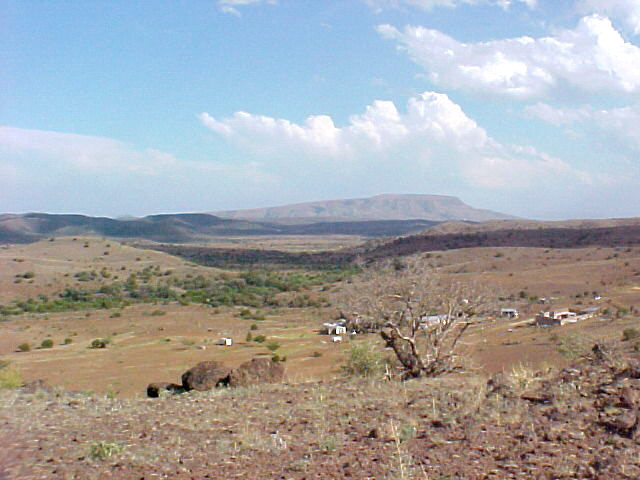 View of Elephant Mountain from the opal deposit with ranch headquarters in foreground.
&nbsp &nbsp &nbsp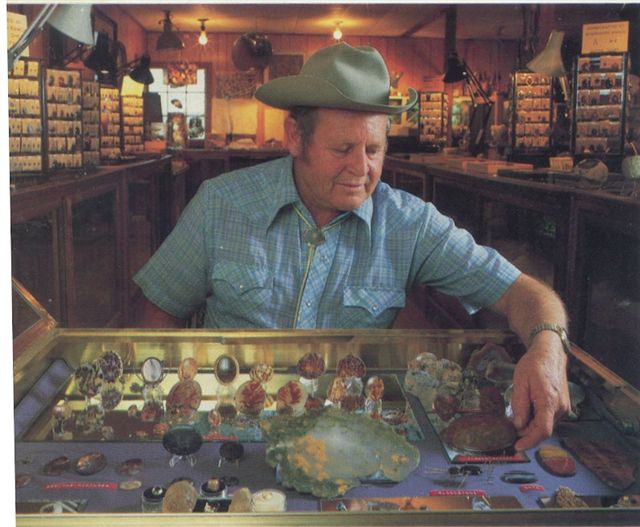 J. Frank Woodward II checking his rock display.
&nbsp &nbsp &nbsp
The next owner and manager of the Woodward Ranch was my brother, J. Frank Woodward II,
who subsequently owned and operated the ranch for many years until retiring in the early 1990's.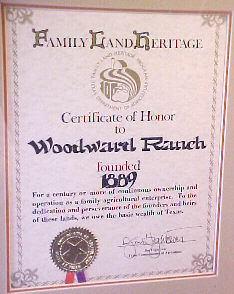 Copy of Family Land Heritage Certificate of Honor presented to the ranch in 1989.
&nbsp &nbsp &nbsp
The Woodward Ranch is a land heritage ranch which still raises cattle, and has done so for over 125 years.
The majority of this land has been in our family since it was first established and lived on in 1884.
&nbsp &nbsp &nbsp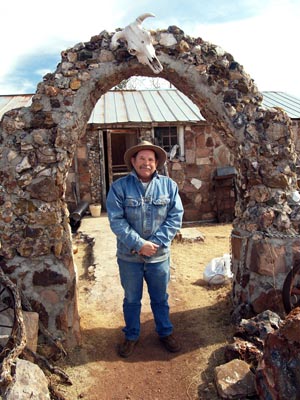 It is currently owned and managed by a third generation within the Woodward family: his son, J. Frank III(Trey), and wife Jayson.
[NOTE: We regret to inform you that John Frank Woodward III (Trey) died of cancer March 5, 2011 at the age of 54. We will all miss him.]
&nbsp &nbsp &nbsp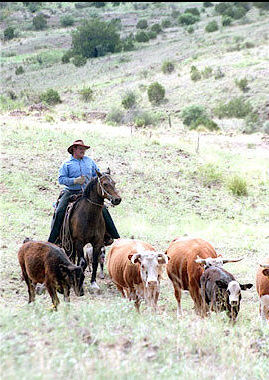 The current ranch owner, Trey Woodward, "working cattle."
&nbsp &nbsp &nbsp Dad used to tell people, "Selling rocks became an enjoyable year-round source of side-income for us. And best of all, we don't have to feed these rocks in the winter like we do these cattle. In some of the drouth years the rocks have supported the cows while in other years the cows have supported the rocks".
-------- Tommy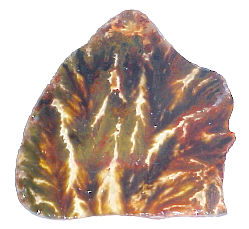 Unusual red, yellow and black plumes found in one slab.

Next - HISTORICAL INTERESTS

© Copyright. All rights reserved.