&nbsp &nbsp &nbsp &nbsp &nbsp This description relates to the inner surface of that opaline-onyx-agate material found within the cavity of the rock (See Fig. 1). With a change in the movement of water bringing in new silica it is apparent that by observing the layering beginning on the bottom of the cavity that silica was emplaced in the form of flat-layered opal silica that is in/of the opaline class.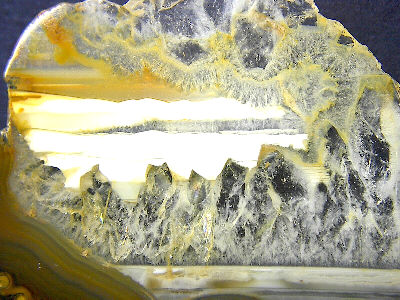 Fig.1 Brazilian opal-onyx-agate slab.

&nbsp &nbsp &nbsp &nbsp &nbsp Next, the cavity was filled with solutions of silica-bearing waters in which a considerable length of time passed that allowed micro-crystals of silica to deposit and slowly grow into macro-crystals. After-ward, when those crystals had stopped growing, there was another change in the movement of the incoming waters and again there was a slight less change in the water that allowed small layers of opal to deposit. More solutions were again deposited into the lower portion as a succession of opal silica. As the amount of silica increased in the opaline form, the deposit appears as almost looking like cumulus clouds as one would see them from above.
&nbsp &nbsp &nbsp &nbsp &nbsp Next, there was a cessation of deposition that allowed very, very thin layers of (apparently) manganese to accumulate. Then another layer of opaline silica was deposited on top of that surface.
&nbsp &nbsp &nbsp &nbsp &nbsp Continuing with the interpretation of this particular agate slab, dendritic growths apparently began to spread up and into the opaline growth material and into that opaline mass. Then more opal was emplaced and deposited until the cavity was sufficiently filled with more of the opal silica.
&nbsp &nbsp &nbsp &nbsp &nbsp To completely fill and finish out the rock cavity there were then formed and deposited in this setting pale pinkish-colored micro-crystalline agate. During that period of time more onyx-like layers of silica were also being deposited. From the upper left you can see the thin, flat layers of opaline deposits mixed in with the agate deposit. Then yet another horizontal layer of silica was deposited. Moving upward one more time you have reached a point where the cavity is completely filled with silica materials.

&nbsp &nbsp &nbsp &nbsp &nbsp J. Frank Woodward II (7/2002)
Return to the HISTORICAL INTERESTS page

© Tommy R. Woodward
All rights reserved.